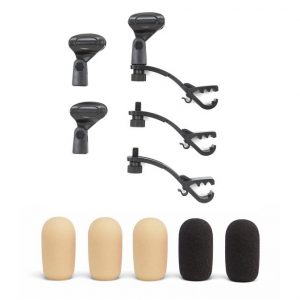 DMC200 & WS5AH8 Microphone Accessories
ACCESSORIZE YOUR MICS
Two new microphone accessories are now available from Samson! First, the DMC200 Drum Microphone Clip 3-Pack offers an easy microphone rim mounting solution for standard-sized drum mics, especially Samson's DK700 Series Drum Mic Kits (Q72 Instrument Microphones). And second, the WS5AH8 Headset Microphone Windscreen 5-Pack is the ideal accessory to help reduce occurrences of vocal popping and wind noise when using the Samson AirLine 88 AH8 Fitness Headset Transmitter.
For more information, please visit: DMC200 & WS5AH8 Microphone Accessories