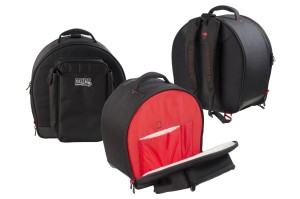 Gator Cases deluxe PRO-GO series provides professional level protection for musicians on the go and is now available for snare drums. These sleek and stylish gig bags are built tough to keep your snare safe during even the harshest conditions. With ample storage and adjustable, removable, padded backpack straps the PRO-GO Snare Bag is the perfect companion for the traveling musician.
Gator's PRO-GO series features an extremely durable nylon exterior and ultra-thick padded sidewalls. On the interior, your snare is cushioned in a luxurious, thick, white micro-fleece lining. The bag also includes two small, padded, fleece covered wedges to utilize on the bottom of the bag for extra protection when you set your snare drum down.
The PRO-GO Snare bag includes numerous storage options with a built-in tablet compartment and a large front pocket perfect for holding sticks and accessories. Lastly, being caught in the rain is nothing to fear as a protective rain cover is stored in the rear compartment hidden away behind the backpack straps, and wraps around the exterior to keep everything dry.