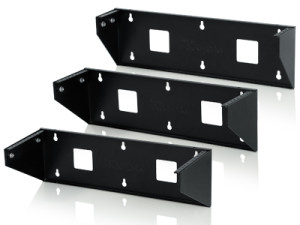 The Gator Rackworks line of racks and rack accessories has grown with the addition of a new series of vertical wall mount racks. The Rackworks Wall Mounts are available in 2 space, 3 space and 4 space unit sizes and can be mounted vertically or horizontally. The unique design allows these versatile racks to accommodate any rack depth coupled with a weight capacity of 200 lbs, the Rackworks Wall Mount Racks are a great solution for any situation when wall space is limited.
The Rackworks Vertical Rack Mounts have threaded rack rail and are constructed of cold rolled steel with a black powder coated finish making them perfect for sound contractors and worship audio technicians.
Let Gator Rackworks take the headache out of your next install job.