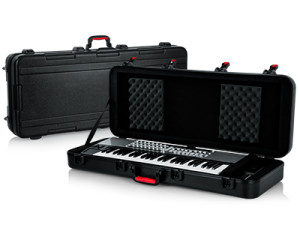 Gator Cases line of lockable, TSA Keyboard cases have been updated with new and improved hardware. These cases are ideal for air travel with its easy to use TSA approved locking latches. Travel with peace of mind and lock up your keyboard before sending it through security.
The GTSA Keyboard cases provide superior protection with a unique foam wedge blocking system for the ultimate compatibility with different keyboard models while also creating a section for accessory storage. Your keyboard is held safely in position with thick foam padding and adjustable convoluted foam in the lid.
With a military grade polyethylene outer shell, Gator's TSA series of cases provides top notch protection and are significantly lighter than standard wooden flight cases. The uninterrupted black aluminum valance not only gives these cases a stealth look but also provide additional strength to the overall frame of the case. Surface mounted TSA latches now feature an improved latch housing for impact diversion and a red release trigger designed for one-handed, one-step operation.
All TSA cases feature the signature red ergo-gripped comfort top handle. Additionally, the 61 through 88 note keyboards combine recessed in-line wheels and spring-loaded rubber-gripped tow handles for easy transport and loading.
The updated GTSA series replaces the GKPE series cases and are offered in the same sizes to fit from 49-note up to 88-note keyboards including slim, deep and extra-long models.