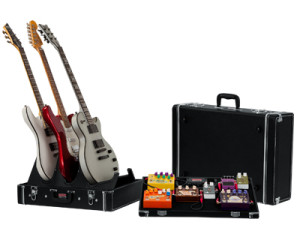 In the world of guitars and effects, there is no standard setup. A guitarist's rig is what helps set them apart from the rest. When it's time to take the show on the road, you want to ensure your entire setup is right there with you. With the Wood Gig Box Jr Series from Gator Cases, the ultimate 'gig' solution is achieved.
Gator's unique and patented GW-GIGBOXJR and GW-GIGBOXJRPWR features an innovative hybrid design combining a pedal board in the bottom section of the case with a collapsible guitar stand built into the lid section of the case.
Grab the Gig Box Junior model's base section to use the compact, 21.25" x 15" pedal board. The board surface is carpet lined and will hold up to ten standard sized stomp boxes utilizing the supplied hook and loop fasteners. The pedal board includes a dedicated, recessed section for mounting a power supply. The Powered Version comes with a Gator G-BUS-8 multi-output power supply.
Flip over the lid section and use the folding guitar stand to conveniently hold up to three electric guitars or two electric and one acoustic guitar.
When it's time to load up, the pedals remain attached to the pedal board while the collapsible guitar stand neatly folds flat into the lid and is held in place with a built-in hook and loop secure strap. Additionally, the case contains a convoluted foam block to protect and hold the pedals in place during transport. The two pieces quickly combine into a compact and convenient sleek black briefcase.
The GW-GIGBOXJR is constructed with lightweight, heavy-duty wood covered in rugged Tolex and accented with white stitching. The case is complete with reinforced end caps, no-slip rubber feet, comfortable carry handle and chrome plated locking latches. The Gator Gig Box Jr is the perfect all-in-one pedal board/guitar stand making pack-up and
set-up a breeze!