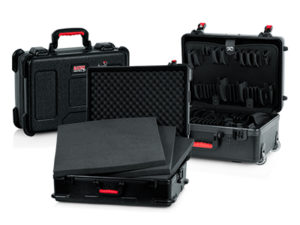 Gator Cases line of lockable, TSA Utility cases have been updated with new and improved hardware. These cases are ideal for air travel with its easy to use TSA approved locking latches. Lock up your gear and travel with ease with this security friendly case.
The GTSA Utility cases provide superior protection with some unique options depending on the gear you are transporting.
With a military grade polyethylene outer shell, Gator's TSA series of cases provides top notch protection and are significantly lighter than standard wooden flight cases. The uninterrupted black aluminum edging not only gives these cases a stealth look but also provide additional strength to the overall frame of the case. Surface mounted TSA latches now feature an improved latch housing for impact diversion and a red release trigger designed for one-handed, one-step operation.
All TSA cases feature the signature red ergo-gripped comfort top handle. Additionally, the GTSA-UTLPLT1813 combine recessed in-line wheels and a pull-out tow-handle for easy transport and loading.
The updated GTSA series replaces the GPE series cases and are offered in (6) different sizes including laptop, tool pallet, and diced foam models.